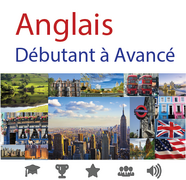 Description
Une solution simple pour apprendre l'Anglais sur le net gratuitement. Apprenez le vocabulaire Anglais du niveau Débutant au niveau Avancé à travers ce cours complet   

http://www.memrise.com/course/102894/anglais-debutant-a-avance

➨ Ce cours a été créé et vous est présenté avec le soutien de NouvellesdEspoir.com , le site pour vous (re)donner de l'Espoir!

! Easy Academy
 Contributors helped to create this course.
Sources
Phonetics:
Audio:
Ad blocker interference detected!
Wikia is a free-to-use site that makes money from advertising. We have a modified experience for viewers using ad blockers

Wikia is not accessible if you've made further modifications. Remove the custom ad blocker rule(s) and the page will load as expected.